Scouting Team - Video Editing Service
Scouting Team offers a Video Editing Service to all Players, Agents and Clubs who need assistence in creating and producing professional videos.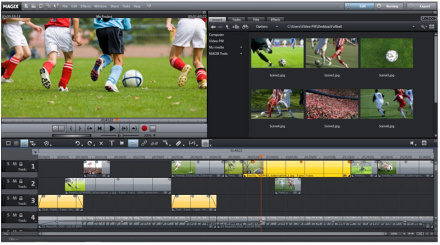 Why does a professional football player need a video?
We live in a visual age and we are all constantly bombarded by images trying to sell us products and services. In the world of football the video has become a key selling tool and in this case the product is YOU.
The first contact with a club or scout often requires a video to be sent. Without this tool it is becoming almost impossible to present a player to a professional football club.
The Scouting Team Video Editing Service produces a video highlighting the best moments from your career to date. This means we only use the key actions from the material provided. With our experience we know what a professional football club is looking for and how to present a players characteristics and skills. If clubs are looking for a defender, then they want to see a defender defend.
This is a promotional tool and subsequently we only choose the moments which highlight your skills and attributes. We only want to produce a professional product and we will inform you if we do not think we have the right materials.
As has been said in many walks of life - first impressions count. In your case, the video is probably the first time a club or scout has seen you in action and with the professional editing services of Scouting Team we hope to make that impression count.
We attempt to offer competitive and affordable rates for all players. This is not an expense but rather an investment in your future.
For Further enquiries about our Services and Prices please Contact Us